The name or term Ironhide refers to more than one character or idea. For a list of other meanings, see Ironhide (disambiguation).

Ironhide is an ornery southern cuss, but a completely different flavor than Ironhide, are we clear?
He's been friends with Mirage a long time, despite them both being bull-headed types.
Japanese Name: Ox
Russian name: Krepiush (Крепыш, "Bulky")
Fiction
Robots in Disguise cartoon
Voice actor: Michael McConnohie (English), Eisuke Yorita (Japanese)
Toys
Robots in Disguise
Japanese ID number: C-009
A redeco of the Generation 2 Go-Bots Motormouth mold, Ox transforms into a Ford F150 Flareside pickup truck. His windshield has heat-sensitive paint that reveals an Autobot insignia, in a method similar to the original rubsigns.
This mold was also used to make the Generation 2 incarnation of Generation One Ironhide and Universe Ironhide
Spy Changer Deluxe 6 Set (Multi-pack, 2000)
Japanese ID number: C-011
All six Spy Changers were not only sold as individuals in Japan, but in a six-piece gift set as well.
Ox clear version (Spy Changer, 2000)
An exclusive redeco of Ox in clear-green and clear-orange plastics, this version was only available from Jusco stores in Japan as a direct-mail premium to members of their "Peppy Kids Republic" (元気キッズ共和国, Genki Kidzu Kyōwakoku), a sort of subsidiary/offshoot for selling baby goods and children's clothing. Since membership was open only to kids 12 and under and this version was shipped blind-packed, getting the entire set of six was extremely difficult.
Mirage & Ironhide (Basic, 2001)
Available only in a two-pack with Mirage, the Hasbro version of Ox adds more paint applications, mainly red in the truck bed. The heat-sensitive windshield insignia was replaced with metallic blue windshield paint and a normal Autobot insignia tampograph on the truck roof.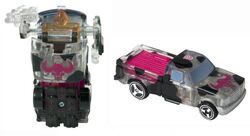 Ironhide (Spy Changer, 2002)
All six original Spy Changers were redecoed in colorless-clear plastics (keeping their normal paint applications, though), and released on individual cards through Kay-Bee Toys chains.
Ironhide (Tiny Tins, 2002)
The normal Hasbro version of Ironhide was released as part of the first assortment of Tiny Tins Transformers, coming with a carrying tin.
Super Ox (Spy Changer, 2003)
Long after the Robots in Disguise line ended in Japan, Takara put out individually-boxed redecoes of the Spy Changers. Ox was given a deep blue and white deco.
In each case of twelve Super Spy changers, two were all-clear-plastic versions (but keeping their paint applications). All six Spy Changers had a clear variant.
Ironhide (Spy Changer, 2003)
A second round of Kay-Bee-exclusive Spy Changers was released on individual cards. This time around, he was done in clear-blue, clear-orange and clear-colorless and lacking his cow-pattern deco (making him look not unlike a clear incarnation of Motormouth).
This exact toy was later re-released a Universe incarnation of Generation One Hoist.
External Links
I cannot remain in this unacceptable operational status!
---
This character article is a stub and is missing information. You can help Teletraan I: The Transformers Wiki by expanding it.
Community content is available under
CC-BY-SA
unless otherwise noted.