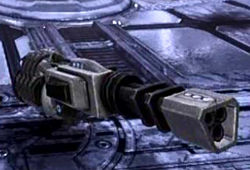 One of the more powerful weapons on Cybertron, the Ion Displacer is usually found attached to a turret base and behaves like a heavy machine gun.
History
Ion Displacers were used during the Great War. They could also be found in the hands of Heavy Soldiers.
Notes
Once detached from their base, their ammo becomes limited. They also restrict movement (double-jumps are not allowed) and will be dropped upon transformation or switching weapons.
This weapon seems to be highly inspired by the turrets in Halo 3, which can also be ripped away from the mounting and carried around and also feature a three barrel design
Community content is available under
CC-BY-SA
unless otherwise noted.