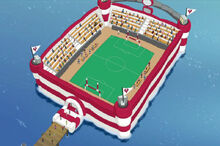 The Insta-adium is a revolution in sporting venue design. By dint of being inflatable, this sports stadium can be easily moved and erected wherever it is required. It can be inflated in less than a minute, creating an instant sports ground suitable for many sports. May not be suitable for baseball, football, Brash Ball, hockey, basketball, pole vaulting, or javelin. No refunds.
History
Mayor Luskey purchased an Insta-adium for Griffin Rock with most of the town's money, planning to recoup the expense by luring the Brash Ball Big Bowl to the town and bringing in a massive amount of tourists. When the town's communication tower died, he demonstrated his purchase to the rescue team and explained his plan, though they were dubious of the Insta-adium's merits. The Brash Ball officials arrived to watch the town's team take part in an Inter-County Championship playoff, however the player's cleats perforated the floor of the Insta-adium. It rapidly began to take on water and sink, though the Rescue Team were able to get everyone out before it was consigned to the murky depths of the sea.
Community content is available under
CC-BY-SA
unless otherwise noted.