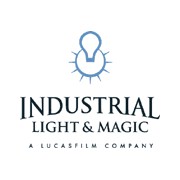 Industrial Light & Magic is a movie special effects studio founded by Star Wars writer/director George Lucas in May 1975, and is currently owned by Lucas's main motion picture studio, Lucasfilm. The company is known for its outstanding work in many motion pictures, including the first computer-generated imagery animation in a feature-length film, the first movie shot entirely on digital cameras, and for the development of the Pixar computer system (before they separated and were eventually bought out). The San Francisco-based company has participated in the production of over 200 movies in the past 32 years.
ILM is responsible for the majority of the CGI in the first live-action Transformers movie, and are serving in the same capacity for the sequel, Transformers: Revenge of the Fallen.
Despite winning several awards from the Visual Effects Society for Transformers and seemingly being a shoe-in for the 2008 Oscar for "Best Visual Effects", ILM actually lost (to the shock of the visual effects industry and the assembled movie makers) to a goddamn polar bear, no less.
ILM staff on Transformers included:
External links
Community content is available under
CC-BY-SA
unless otherwise noted.