Ichibi is an Autobot-allied Mini-Con from the Cybertron portion of the Unicron Trilogy.
Ichibi (イチビ) is a member of the Caliber Mini-Cons, a special strike force under the command of Wing Saber.
Toys
Galaxy Force
Ichibi (Caliber Mini-Con, 2005)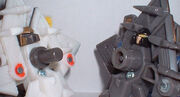 Ichibi is a redeco of the Armada Air Military Mini-Con Team Mini-Con Thunderwing, transforming into a "flying wing" style stealth fighter. The swivelling Powerlinx socket was removed and replaced with a 5mm peg, letting Ichibi be used as a hand-held weapon by most larger Unicron Trilogy toys (ironically, the Cybertron version of Wing Saber is not among those who can hold Ichibi).
He and the other Caliber Mini-Cons were only available in July of 2005 from select stores in Japan as special promotional giveaways. Ichibi could be obtained from either "Ito Yokaido" or "Hello Mac" department stores, with the purchase of any Transformers item.
Notes
Hirofumi Ichikawa explains that Ichibi is the name of a variety of velvetleaf (Abutilon theophrasti). It has no kanji representation, though it's theorized to have derived from "tomoshibi", meaning "lamplight". While this seems to set this name rather apart from the other two Caliber Mini-Con names in feel, if you consider the names as all deriving from "ninja tools and skills", a common thread emerges. It turns out this particular plant was used long ago as an ingredient of the gunpowder used for matchlock rifles and similar weapons.
Community content is available under
CC-BY-SA
unless otherwise noted.