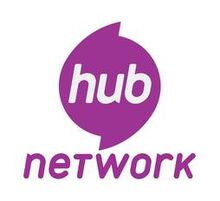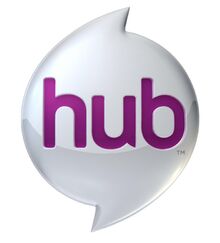 Hub Network, previously known as the Hasbro-Discovery Communications Joint Venture Network and The Hub, was a cable television network in the United States owned by Hub Television Networks, LLC, formerly known as Hasbro-Discovery Communications Joint Venture. It began broadcasting October 10, 2010, replacing the channel formerly known as Discovery Kids.
Hub Network was the American outlet for the Transformers: Prime, My Little Pony: Friendship is Magic and G.I. Joe: Renegades cartoons. In the 2011–12 season, Transformers: Rescue Bots also joined the network's line-up. From 2010 through 2014, its management team was headed up by Margaret Loesch, a veteran of the Transformers brand who worked on the original cartoon.
Hub Network broadcasts of the original cartoon (billed as The Transformers: Generation 1) aired late weeknights, while Prime aired in the Saturday Mash Up block. On July 9, 2012, Hub Network also added Transformers Animated to their lineup.
On October 13, 2014, Hub Network became Discovery Family, which airs Discovery-produced programming at most hours, with Hasbro content to air only during the daytime. As a result of this change, the 2015 Robots in Disguise cartoon was moved to Cartoon Network.