This article is about the Generation One Micromaster. For the
Universe
Mini-Con, see Heavytread.
Heavy Tread is an Autobot Micromaster from the Generation One continuity family.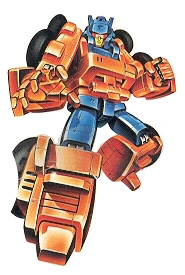 Heavy Tread really enjoys mean-spirited, physical pranks. Thankfully, he reserves this cruel hobby for Decepticons. His penchant for pulling these punks then telling his friends on the Monster Truck Patrol about it has made him pretty popular (well, among the Autobots, at least), but has put unexpected pressure on Heavy Tread. He's becoming worried that his gags are getting stale, and if he doesn't up the jackassery, his buddies might lose interest.
French name (Canada): Chenille
Dreamwave comic continuity
Edit
Generation One
Edit
Monster Truck Patrol (Micromaster Patrol, 1990)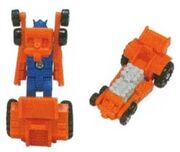 Heavy Tread doesn't actually transform into a "truck" per se, but a six-wheeled, double-engined, tractor-pull funny car. He was only available in a Micromaster four-pack with his teammates Big Hauler, Hydraulic and Slow Poke.
Return of Convoy
Edit
Big Truck Team (Micro Trailer team, 1991)
Japanese ID number: C-361
The Monster Truck Patrol was released in Japan with no discernible differences during Return of Convoy. However, the team did come with Micro Trailer #1.
In Dreamwave's More Than Meets The Eye encyclopedia, Heavy Tread is drawn with six wheels in robot mode (on his shoulders and ankles), but only four in vehicle mode. Oops.
External links
Edit
Community content is available under
CC-BY-SA
unless otherwise noted.