Hawkeye is a Mini-Con from the video game version of the Unicron Trilogy.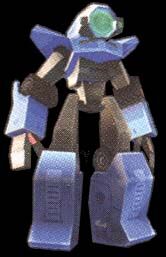 Hawkeye is one of many power-enhancing Mini-Cons scattered across Earth. A member of the Blue Mini-Con Team, when Powerlinxed to a larger Transformer, Hawkeye equips the larger Transformer with "energon imaging", allowing them to detect other Cybertronic forms by their energon signatures, through blinding snow, dense brush or even solid rock or metal.
Fiction
Transformers Playstation 2 Game
Hawkeye's Mini-Con storage panel was discovered on a small icy ledge between two rivers in Antarctica. Following the defeat of Megatron, he and the other Mini-Cons returned to Cybertron and helped form the Matrix Cannon, Nemesis Shield and Vanguard Booster, giving the Autobots the power needed to destroy Unicron.
Notes
External Links

I cannot remain in this unacceptable operational status!
---
This character article is a stub and is missing information. You can help Teletraan I: The Transformers Wiki by expanding it.