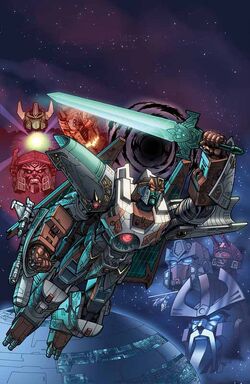 As part of the official fan club, license-holder Fun Publications publishes a bi-monthly magazine titled the Hasbro Transformers Collector's Club. The magazine includes stories, interviews, previews of upcoming toys, mini-comics such as Mini Mayhem! and Lil Formers, fan art, and a comic story in the last half dozen pages (or so). Some issues include a one-page tie-in comic to upcoming Timelines text stories.
Overview
Balancing Act
The first comic storyline, published 2005–2006, was set in the Unicron Trilogy universe, concurrent with the Cybertron animated series. This Cybertron story was told in two arcs, "Balancing Act" and "Revelations". The two arcs were combined into a single trade paperback volume titled Balancing Act in 2007. The story was scripted by Forest Lee, pencilled by Dan Khanna, and plotted by both.
Crossing Over
Starting with issue thirteen in Jan/Feb 2007, the magazine was rebranded with the Classics version of the original Transformers logo and began a new 6-part storyline titled "Crossing Over", centered on the Classics toy characters and set after the Marvel Generation One comics. The arrival of two dimension-hopping characters from "Balancing Act" ties it to that storyline.
The Lee/Khanna creative team produced the story.
The BotCon-exclusive story "Games of Deception" immediately follows "Crossing Over".
Transcendent
With issue #19 in Feb/Mar 2008, a new storyline entitled "Transcendent" began, set in the Transtech universe. As with "Crossing Over", it is tied to the previous story by three characters who journey to this new universe. Forest Lee is providing scripts; pencils and inks are by Alex Milne.
Various text stories under the Timelines banner are slated to flesh out this universe further.
Community content is available under
CC-BY-SA
unless otherwise noted.