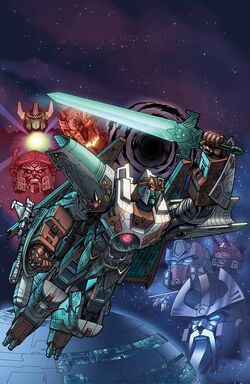 The current publisher of the Transformers Collectors' Club magazine includes a comic story in the last half dozen pages (or so) of each issue. Each comic is scripted by Forest Lee, pencilled by Dan Khanna, and plotted by both.
For the first two years, the comic was set in the Unicron Trilogy universe, concurrent with the Cybertron animated series. This Cybertron story was told in two arcs, "Balancing Act" and "Revelations,". The two arcs were combined into a single trade paperback volume titled Balancing Act in 2007.
Starting with issue thirteen in Jan/Feb 2007, the comic was rebranded with the Classics version of the original Transformers logo, and began a new storyline titled "Crossing Over", centered on the Classics toy characters and set after the Marvel Generation 1 comics. The BotCon exclusive story "Games of Deception" immediately follows "Crossing Over".
In 2008, a new storyline entitled Transcendent" began with issue #19, set in the Transtech universe. Various text stories under the Timelines banner are slated to further flesh out this universe.