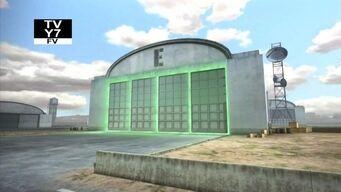 Hangar E is a military base that served as the primary base of operations of Team Prime . Agent Fowler provided this Hangar to the Autobots after the original base was destroyed by The Decepticons.
History
Agent Fowler used an office in Hangar E when Megatron threatened to destroy Earth by using Darkmounts fusion cannons.
Hangar E served as the new base for Team Prime when Optimus Prime returned in a new body and helped his team in destroying Darkmount. Optimus also welcomed Ultra Magnus to Earth and to the team.
Team Prime installed a Ground Bridge in Hangar E and moved some of their old equipment, that they recovered from their old destroyed base, into Hangar E. Wheeljack nearly destroyed inside when he tossed a lobbing ball at Bulkhead, who didn't know.
Ultra Magnus was using his old command style on the team, which they found it very annoying. During the time, Ultra Magnus was watching a group of human soldiers running outside Hangar E. Optimus Prime talked to Ultra Magnus and told him that his service is welcomed but it wasn't the Elite Guard. After Optimus saved Ultra Magnus and Wheeljack from being nearly killed by Predaking, Ultra Magnus's right hand was crushed to pieces. Ratchet began repairing it and Ultra Magnus asked Optimus what he meant earlier in their conversation from before. Optimus told Magnus that he meant that "Family" is greater than any army. The Team gathered around Ultra Magnus as they saw his broken hand.
Soundwave was captured by the Autobots and was brought back to Hangar E for interrogation. During his interrogation, Soundwave shut down his own system to prevent the Autobots from seeing his drives of Megatron's latest plan. When Optimus took Arcee, Ultra Magnus, Bumblebee and Wheeljack to recover a device in Antarctica, Laserbeak broke in Hangar E to free Soundwave. Soundwave dispatched Smokescreen, Bulkhead and Agent Fowler before capturing Ratchet.
The Team worked together with their human friends to get Ratchet back.
Outside Hangar E, the Team launched Chip with Optimus following in to find the Decepticon warship to rescue Ratchet. Later, the team received coordinates from Ratchet to storm the warship. Optimus told his team, via com link, that they must lock onto those coordinates for their last battle with the Decepticons.
After Bumblebee killed Megatron and the team used the Cybermatter to restore Cybertron's core, they said goodbye to their fellow human partners and friends in Hangar E. Ratchet stated that he will stay on Earth to help his fellow human friends. Optimus gave a last glance at the humans and Ratchet before leaving with the others back to Cybertron.
In History Lessons, sometime after Team Prime left Earth, Hangar E and the surrounding base was abandoned. Bumblebee led his unit there to reminisce about the good ol' days for a bit before they moved on.
Gallery
Community content is available under
CC-BY-SA
unless otherwise noted.