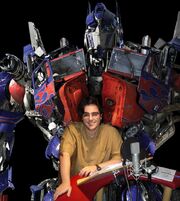 Guilherme Briggs (1970-) is a Brazilian voice actor. He began his career in 1991, voicing some ridged-headed alien in Star Trek: The Next Generation, and has since built a prolific career, with the Brazilian versions of toy astronauts, some psycho named Daggett, a blue-skinned wacko, an alien superhero and characters done by Denzel Washington and Brendan Fraser. A long-time fan of Transformers, he has done the Brazilian version of all protagonist robots since Beast Machines, and directed the dubbing of the 2007 film.
Roles
Beast Machines
Robots in Disguise
Unicron Trilogy
2007 film
External links
Community content is available under
CC-BY-SA
unless otherwise noted.