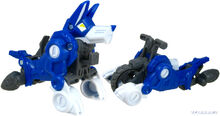 Growl the K-9 Bot helps Chief Charlie Burns hunt down wrongdoers when he needs transport that's a bit more maneuverable and smaller than Chase can provide.
Toys
Playskool Heroes: Rescue Bots
Griffin Rock Police Station (Playset, 2015)
Growl is a robotic dog who transforms into a motorcycle. Sadly, his bike mode is not really compatible with the Playskool Heroes style figures; they can ride him, but they're not made to sit and they can't really grip his horizontal handlebars. Their stance is wide enough to fit on his back end and use the tailpipes as footrests, though.
Rescue Guard Bumblebee (2018)
A new version of Growl was released with Rescue Guard Bumblebee. Rescue Pets Growl and Sergeant Slobber can transform into armor/rescue tools and attach to Bumblebee in either mode. This version of Growl is more convincing in dog mode than his earlier version. He also dumps the royal blue for a primarily black and red color scheme on this go around.
Notes
Growl is the only Rescue Bots Mini-Con so far that turns into a vehicle rather than a tool, though he does become a tool when working with Bumblebee.
Neither Slobber nor Growl are named anywhere on Bumblebee's actual packaging or instructions; their names come from Hasbro product text, and it is not unambiguous that Growl is the toy shaped like Growl rather than colored like Growl. Nevertheless, this is the assumption with which this wiki has proceeded.
Community content is available under
CC-BY-SA
unless otherwise noted.