The name or term Sixshot refers to more than one character or idea. For a list of other meanings, see Sixshot (disambiguation).

A former Decepticon who decided he was sick of blowing stuff apart, Greatshot turned on his partners on Planet Micro. A loner, Greatshot took a while to come around to being a team player. Eventually, though, he became sort of a loose affiliate, part of the team but preferring to do things his own way.
Greatshot's six modes, ranging from robot to rhino, make him one of the most lethal warriors the Autobots have. Plus he ruffles Gaihawk's feathers quite a bit.
English-Malay dub name: Sixshot
Gallery
Fiction
Victory cartoon
Voice actor: Michihiro Ikemizu (Japan)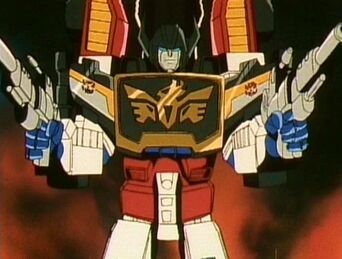 Greatshot hasn't always kept the best of company. His former friends include the criminal mercenaries Blue Bacchus and Black Shadow. Planet Micro - The Mysterious Warrior
As well as the sociopathic Gaihawk. Greatshot trailed the pair of mercenaries to planet Micro, intent on stopping them as his first step in "putting an end to conflict." He managed to destroy the powerful Pretender shells of the two mercenaries, though he failed to defeat either core opponent. Greatshot then traveled with Holi to the prison facility of Micro, though it was in the hopes of converting his former friend Gaihawk to the Autobot cause. Gaihawk gave his refusal in a spray of blaster rounds that almost wiped out the two Autobots. While Greatshot lost his old friend, he did gain a new one in the diminutive police-bot. And still the only person he has managed to shoot is Hellbat. Rescue! Gaihawk, Crisis! Ambush in the Desert, Fight!! Victory Leo, Ultimate Crisis!! Autobots, The Wrath of the Resurrected Giant Fortress!

I want to tell you about the Transformers!
---
This character article is a stub and is missing information on their fictional appearances. You can help Teletraan I: The Transformers Wiki by expanding it.
Victory manga
Toys
Victory
Greatshot (1989)

Japanese ID number: C-325
Accessories: 2 guns

Collect them all!
---
This character article is a stub and is missing information on their toys & merchandise. You can help Teletraan I: The Transformers Wiki by expanding it.
Notes
There is much fan speculation that Greatshot is an upgraded version of Sixshot. However, according the supplemental character bio included with Greatshot's toy, he is in fact a former compatriot of both Sixshot and Sixknight, who in turn were all members of the "Six Clan" that "secretly rules over the galaxy". Uh... okay then! [1]
There are several similarities between Greatshot and Sixshot:

Greatshot is remold from Sixshot.
Both of them are voiced by the same voice actor.
Both of them speak like Samurais.
The supplementary bio also states that Greatshot frequently carries out secret ninja missions, apparently further tying him in with the "Ninja Staff Officer" Sixshot and the "Ninja Knight" Sixknight.
External links
Community content is available under
CC-BY-SA
unless otherwise noted.