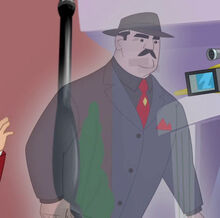 Ghost Gangster was a prominent resident of Griffin Rock, presumably some time in the 30s.
History
This gangster was a famous, probably notorious citizen who was recreated as a hologram for the town's tricentennial celebration in 1949. A little over sixty years later, the inventor's hologram was repurposed by Myles and Evan as a "ghost" as part of a plot to make stuff easier to steal. The Ghost Gangster terrified the wits out of Huxley Prescott when the reporter tried to interview it, and it had a similar effect on Blades when it materialized in his cockpit. Once the mess had been cleared up, Frankie Greene put the holograms back to the purpose they'd originally been intended for.
Community content is available under
CC-BY-SA
unless otherwise noted.