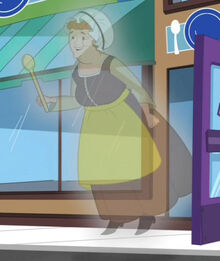 Ghost Cook was a prominent citizen of Griffin Rock early in the town's history.
History
At some point in the town's history, the cook brewed up enough soup to feed the whole island over winter. She became so well known that in 1949 she was made into a hologram for the town's tricentennial. A little over sixty years later, the cook's hologram was repurposed by Myles and Evan as a "ghost", and deployed in a restaurant. The cook managed to scare off the owner and customers, causing a fire in the process, and gave Kade Burns a scare into the bargain. Myles and Evan were able to raid the restaurant's till without interference. Once the mess had been cleared up, Frankie Greene put the holograms back to the purpose they'd originally been intended for.
Community content is available under
CC-BY-SA
unless otherwise noted.