This article is about the awesomely crazy Devil's Due crossover with the time traveling Transformers. For other stories with G.I. Joe, see G.I. Joe crossovers.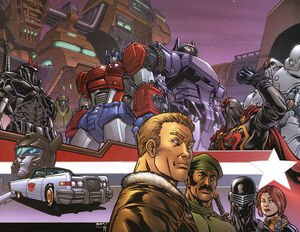 G.I. Joe vs. the Transformers II is a 4-issue miniseries published by Devil's Due Press in 2004, and set in the Devil's Due crossover continuity.
Preceded by: G.I. Joe vs. the Transformers
Followed by: G.I. Joe vs. the Transformers: The Art of War
Overview
Though Megatron had been vanquished, Shockwave has led the Decepticons to near-total control of Cybertron. Cobra Commander, meanwhile, plots to take control of the Cybertronian supercomputer Teletraan 3. His scheming and interference, however, causes the computer to go berserk, transporting random groups of Transformers through time and space. Teams of allied Joes and Cobras must follow the displaced robots and return them to the present, before their presence will cause a time storm to scourge Earth.
The 4-issue miniseries was preceded by a preview issue containing a few pages from the new series, as well as interviews and sketches. Numerous Transformers were redesigned for the series, with alternate forms appropriate to the time period to which they were transported.
Creative team
This volume was written by Dan Jolley and illustrated by Tim Seeley and E. J. Su. Su would later go on to become a major player for current Transformers license-holder, IDW Publishing.
Collections