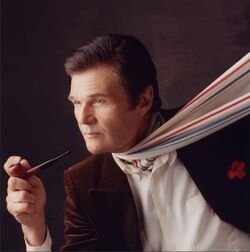 Fred Willard (born September 18, 1933 - May 15, 2020) is an American comedic actor. He first attained fame as lunkheaded straight man Jerry Hubbard on the '70s talk show spoof Fernwood 2 Night, and has played a number of recurring roles on sitcoms, including Roseanne, Mad About You, and Everybody Loves Raymond. On film, he has appeared in Anchorman, American Wedding, and all of Christopher Guest's mockumentaries, including This is Spinal Tap, Best in Show, and A Mighty Wind, as well as a live action appearance in the Disney-Pixar film WALL-E. He's also a frequent guest on The Tonight Show with Jay Leno.
In the realm of voice acting, Willard has made memorable appearances on Kim Possible, King of the Hill, and The Grim Adventures of Billy and Mandy, G.I. Joe Renegades, and in the Rifftrax for Missile to the Moon.
He pulled off the best sleazy con-man voice EVER.
Willard passed away at the age of 86 due to natural causes.
Voice roles
Transformers Animated
External links
Community content is available under
CC-BY-SA
unless otherwise noted.