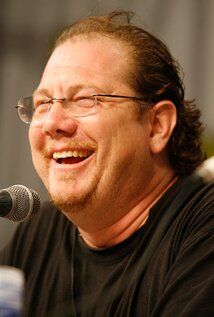 Fred Tatasciore (pronounced Tata-shore; born June 15, 1967) is an American voice actor. He provides minor voices in all three Seth MacFarlane shows, Family Guy, American Dad!, and The Cleveland Show, but he is quite well known for having played Ripjaws, Waybig and Cannonbolt in Ben 10, the Beast on Wolverine and the X-Men, Gato and Kakuzu from Naruto, Ivan Steranko/Rocksteady on the 2012 Teenage Mutant Ninja Turtles cartoon, and the Hulk in just about every single Marvel production since the mid 2000s.
In the world of video games, Tatasciore can be heard as Nikolai Belinski and Dr. Ludvig Maxis in Treyarch's Call of Duty: Zombies series, Mario Auditore in the Assassin's Creed games, Loz in Final Fantasy VII: Advent Children, the Beasts in Metal Gear Solid 4: Guns of the Patriot, Saren Arterius in Mass Effect, Zeratul in StarCarft II and Damon Baird in the Gears of War franchise.
He also seems to know Spanish very well.
Voice roles