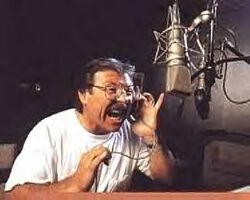 Franklin Wendell "Frank" Welker (born March 12, 1946) is an American voice actor god. Though it is but the tip of the iceberg, some of Welker's most notable roles include Fred from Scooby Doo, Ray and Slimer from The Real Ghostbusters, Santa's Little Helper from The Simpsons, Nibbler from Futurama, Dr. Claw from Inspector Gadget and that parrot that got eaten by the shark in Deep Blue Sea. He has also done nearly all the animal sounds recorded for cartoons in North America in the last few decades. He provided the animal sounds for Milo, Stanley Ipkiss's dog from The Mask: The Animated Series. Though he has given voice to numerous Transformers, he is particularly remembered for his portrayal of Megatron and Soundwave.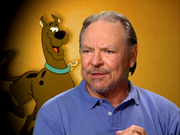 Basically, if you haven't seen a cartoon with him in it then that's because you've never seen a cartoon in your entire life. Unless it was one of those public domain 1930s cartoons which sell for a buck at Family Dollar, of course.
Transformers rolesEdit
The TransformersEdit
Transformers
Edit
Creatures
Edit
Yeah, we're impressed, too.
Live-action film franchise
Edit
Transformers: Beginnings / Transformers: The GameEdit
TransformersEdit
Transformers: Revenge of the FallenEdit
Transformers: Revenge of the Fallen gameEdit
Transformers: Dark of the MoonEdit
Transformers: PrimeEdit
According to Ben Yee, Bob Forward desperately wanted Frank Welker to reprise the role of Generation One Megatron for the Beast Wars episode "The Agenda (Part 2)" and even offered to go to Welker's home in California and tape-record his lines there. However, Welker declined the role supposedly because Forward was unable to offer him a sufficient amount of money and his schedule was too busy.
For an episode of Adult Swim's Robot Chicken series, "Werewolf vs. Unicorn", Frank Welker reprised the roles of both Soundwave and Megatron.[1]
Throughout the '90s, Frank Welker was the official voice of Steven Spielberg in all his animated appearances in shows like Tiny Toon Adventures, Animaniacs and Freakazoid but one: the Tiny Toon Adventures episode "Buster and Babs Go Hawaiian", in which Spielberg played himself in his first appearance on the show.
On a Futurama DVD commentary, Billy West referred to Welker as "a voice-acting god", an appellation that has stuck in various fan communities.
In the first 4 episodes of The Transformers, Frank Welker's name was not in the credits.
Frank reprised his role as Megatron (much to the delight of fans) in two episodes of Family Guy.
References
Edit
External Links
Edit
Community content is available under
CC-BY-SA
unless otherwise noted.