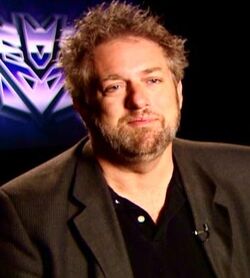 Flint Dille (born 1955) is a writer and story editor who wrote episodes for numerous Sunbow productions in the 1980s, including G.I. Joe, InHumanoids, Visionaries, and Transformers. As a story editor on the original Transformers cartoon, he was responsible for approving and supervising the writing of scripts, as well as maintaining continuity, and also developed the origin of the Transformers (in one continuity, at least) in Five Faces of Darkness. He now primarily works in the video game industry, and recently recorded a DVD commentary for The Transformers: The Movie with Susan Blu and Nelson Shin.
His last name is pronounced 'Dill-ee'.
Credits
Writer
Other
Notes
External links
Community content is available under
CC-BY-SA
unless otherwise noted.