The name or term Flareup refers to more than one character or idea. For a list of other meanings, see Flareup (disambiguation).
Flareup is an Autobot from a Timelines addition to the Generation One continuity family.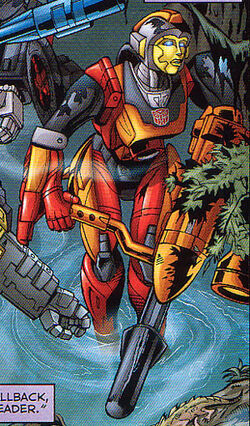 Flareup loves her job, and does it with a cheerfulness and zeal matched by few of her Autobot comrades. Unfortunately, her job is to blow things up, and thus her disposition is often considered by her comrades to be a little off-putting. More seriously, she tends to enjoy herself so much that she gets careless, and more than once, her colleague Chromia has had to pull her, quite literally, out of the fire.
Flareup originally trained in search and rescue under Firestar, but after it became clear she was better suited to more offense-oriented tasks, Firestar placed her in the care of her friend Chromia.
Fiction
Timelines
Flareup was part of an Autobot strike force sent to Ceti Alpha Seven to destroy a cloning installation set up by the Decepticon general Deathsaurus. She and Chromia had previously beaten Buzzclaw, one of Deathsaurus' warriors, on Regulon Four, so she expected an easy fight. Unfortunately for the Autobots, the first batch of Deathsaurus' Virulent Clones was already finished, and the team came under heavy attack. Flareup put up a good fight, destroying several clones personally, but was defeated and captured when Deathsaurus himself entered the fray. She and the others were rescued by the timely arrival of Ironhide and Ratchet. Descent Into Evil
BotCon 2008 script reading
Voice actor: Anastasia Matejka

I want to tell you about the Transformers!
---
This character article is a stub and is missing information on their fictional appearances. You can help Teletraan I: The Transformers Wiki by expanding it.
Toys
Timelines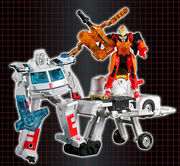 Autobot Ratchet & Flareup (Multi-pack, 2005)

Accessories: Missile launcher, scope, 2 tailpipes, missile, Autobot energon chip
Flareup was only available in a BotCon 2005 convention-exclusive souvenir set with Ratchet. This poly-bagged set could only be purchased if you had already purchased the main seven-toy box set from that year's show.
The same mold is used by Timelines Chromia and Flamewar, and live-action-movie-verse Arcee and Elita-One.
Notes
External links
Community content is available under
CC-BY-SA
unless otherwise noted.