Fixer Bugs are a type of drone-unit from the Armada portion of the Unicron Trilogy.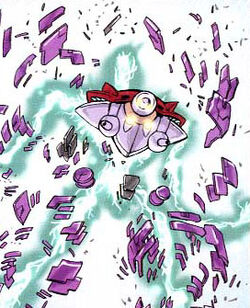 Fixer Bugs are hovering drone machines created by minions of Unicron. They are specially designed to hunt down "renegade" Mini-Cons (those who developed souls and free will), and forcibly Powerlinx to them. For this purpose, they are equipped with a pair of blaster weapons to incapacitate their targets. A less aggressive variant of the Fixer Bug is the Seeker Bug.
Once Powerlinxed, the Fixer Bug rewrites the Mini-Con's core program, down to its spark frame, completely erasing the Mini-Con's soul (cutting it off from the Linkage in the process), and returning them to an energy state stored in a special Mini-Con storage panel. Once reactivated and released from this panel, the "new" Mini-Con is a slave to Unicron's will, and almost invariably their personality has become that of a cruel and aggressive hunter-warrior.