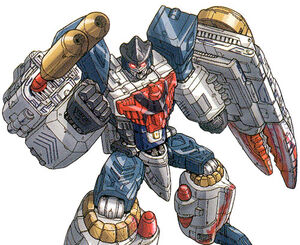 Fireflight is one of countless Autobots involved in the multidimensional war against Unicron and his forces. Fireflight is one of the good guys, fighting alongside Optimus Primal. He is accompanied by his Mini-Con allies Firebot and Thunderwing.
His relation to any other Fireflight is currently unknown.
Fiction
Fan Club Cybertron comic
Fireflight is seen as part of Optimus Primal's forces in the final battle against Unicron's minions. It is presumed he escaped safely when Unicron began to vanish due to his death and collapse into the Unicron Singularity. Revelations Part 2
Toys
Universe (2003)
Fireflight with Firebot and Thunderwing (Deluxe, 2004)
External links
Community content is available under
CC-BY-SA
unless otherwise noted.