m

Line 22:
Line 22:
 

:''Japanese ID number'': '''D-93'''

 

:''Japanese ID number'': '''D-93'''

 
 
−

: Available only with the large [[Headmaster]] Decepticon Scorponok, Fasstrack transforms into a six-wheeled assault buggy. His axles were designed for quick rolling down the main ramp of Scorponok's city mode.

+

: Available only with the large [[Headmaster]] Decepticon Scorponok, transforms into a six-wheeled assault buggy. His axles were designed for quick rolling down the main ramp of Scorponok's city mode.

 
 
 

: This mold was also used to make Guardminder.

 

: This mold was also used to make Guardminder.

−
 
 
 
 

==Trivia==

 

==Trivia==
---
Revision as of 20:39, 22 February 2007
Fasttrack is a Decepticon in the Generation 1 continuity.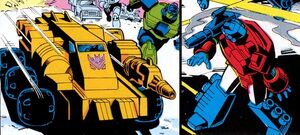 Fasttrack is a semi-autonomous armored interceptor under the control of the Decepticon Scorponok.
Fiction
Marvel Comics Continuity
Fasttrack was among the Decepticons under Scorponok's command. They were ambushed while leading captured Autobots on a death-march to Template:Tooltip smelting pool. Fasttrack seemed caught off-balance balance by the attack, and was among the first to flee the scene once the retreat was sounded.
(Note: The comic's mistake-riddled coloring seems to indicate Fasttrack was the fleeing Decepticon Scorponok called a coward after pointing out they were badly outgunned. The robot mode shown was Blot's, however- a mistake also not uncommon in the Headmasters comic.)
Masterforce Cartoon
An army of Fasttracks, led by Guardminder, worked on a floating Decepticon mega-cannon in space, and defended it from Autobot attackers.
Toys
Generation 1
Japanese ID number: D-93
Available only with the large Headmaster Decepticon Scorponok, Fasttrack transforms into a six-wheeled assault buggy. His axles were designed for quick rolling down the main ramp of Scorponok's city mode.
This mold was also used to make Guardminder.
Trivia
External links