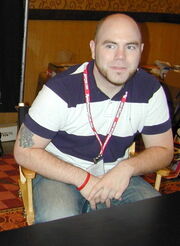 Eric Siebenaler is Hasbro's current Lead Designer on Transformers. He graduated from Purdue University with a degree in Industrial Design. Siebenaler joined the Transformers team in 2002, and his first design was Armada Laserbeak. When Aaron Archer was promoted to "Design Director" in late 2004, Siebenaler was also advanced into Archer's former job title. Recently, Siebenaler was largely responsible for developing the new Transformers Animated series.
His first Transformer was Skywarp.
Eric did not attend BotCon 2008 personally as he is currently in Australia on a working holiday. However, Hasbro provided a life-size cardboard cut out of Eric that fans could write messages on, which Hasbro would then mail to him. The non-cardboard Eric briefly appeared on the Australian children's program Toasted TV to talk about designing Transformers Animated toys.
Toys designed by Eric
Armada
Energon
Cybertron
Transformers Animated
External links
You left a piece out!
---
This article is a stub and is missing information. You can help Teletraan I: The Transformers Wiki by expanding it.