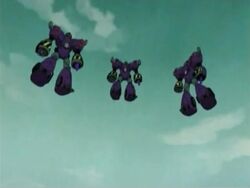 The Lugnut Supreme clones were attacking earth, The Autobots prepare the final battle.
Synopsis
The decepticons are now on earth, and they're trying to destroy Sumdac towers. Prowl and Optimus are on their way to stop them when they pretty much change their focus to the city. Optimus gets control of the Magnus hammer and creates a tornado. It sends the Omega clones to dinobot island. Megatron tells Lugnut to destroy anything that's not him. The clones make their way to the city "italic"without"italic" flight. Starscream pulls himself together and flies to the moon. When Bumblebee, Ratchet, and Bulkhead make their way to the moon to find Arcee just, standing around. Ratchet goes over to her, and Shockwave hits them with a blast. Megatron flies to the city to start his part in the destroying fun, but is hit by Optimus. Ratchet tries to fix Arcee. Sari tells him that he needs to fix something or rather. Arcee comes back online. "italic"Fully"italic" online. The battle between the clones and Megatron and Optimus and Prowl thickens. Arcee and Ratchet brings Omega supreme back online and they literally toss Lugnut out to the curb. Starscream gains control of the clones and tells us that he wired a self destruct mechanism to clones. Megatron tries to disable the self destructing things, but it just shocks him. Megatron decides that if he can't destroy the clones, then he will at least have the satisfaction of destroying Optimus Prime. Jazz and Prowl use processor over matter to find all of the allspark fragments. Starscream is pulled toward them before the allspark fragment is pulled out of his head, killing him. Ratchet and Omega supreme come to earth and start destroying the clones. Prowl and Jazz find out that there is one fragment left, and Prowl sacrifices himself to find it. Prowl goes offline. :( A clone blows up with Megatron and Optimus. It turns out that both survive, and Megatron is finally beaten, and stasis cuffed. The Autobots go to Cybertron to bring the Decepticons to prison. Prowl is honored as a true war hero. He shall live in our sparks forever.
Quotes
Megatron: Ultra Magnus? Here?
(Sees that it's just Optimus Prime.)
Megatron: No, merely a cheap imitation.

— Optimus Prime being the knockoff of Ultra Magnus? UNHEARD OF!
Ratchet: Arcee! You're online!
Arcee: Yes young bots, we're all online. And I'm hear to teach you what it means to be a Cybertronian.
— Ratchet...being called young...creepy.
Megatron: (to Optimus) You're a persistant little Autobot.
Optimus: My name is OPTIMUS PRIME!
— And at last Optimus gets his courage, and all it took was a jetpack and a weather-controlling hammer.

Megatron: Lugnut? Attack! Your glourious leader commands you!
— At least he didn't say fabulous leader.
Jazz: We're gonna need more spark to shield the city from that blast.
Prowl: Can't...pull in...any more fragments...only..one way.
(Prowl starts to glow and rises toward the Allspark Fragments.)
Jazz: Prowl! No! we'll find another way!
(Prowl smiles sadly at Jazz, before sacrificing his spark to shield the city.)

— "Tell my tale to those who ask. Tell it truly, the ill deeds along with the good, and let me be judged accordingly. The rest...is silence..."
Other Notes
Animation and/or technical glitches
Continuity
It's never revealed what connection Sari has with the last three protoforms.
Transformer references
The object around Optimus Prime's neck at the end of the episode looks exactly like the Matrix of Leadership.
Amongst the crowd, Dai Atlas can be seen waving a flag.
This isn't the first time Starscream turns black and white when dead.
Real-world references
Miscellaneous trivia
Starscream flies off to Detroit when he knows that the bombs in the Omega clones will destroy it and "every bot in a hundred mile radius". Honestly, is he trying to get slagged?

Of course, being immortal, he may just wanted to be closer as Megatron was disintigrated.
Starscream finally dies in this episode after his AllSpark fragment is pulled from his head by Prowl and Jazz's Processor over matter.
Ratchet, Bumblebee, and Bulkhead's transformation animations are all shown in this episode.
Prowl's sacrifice would not have been necessary had someone just used the Plasma Dynamic Thruster to transwarp the last bomb away. Urgh.
This is the only episode where Megaton refers to Optimus by name. Hwa?!
Sari goes to the moon and, instead of leaving it a mystery as to how she breaths in a vacuum, she shows that her armored/robotic form allows her to survive without needing to breath.
Apparently not all of the fragments are restored, it's possible that Wreck-Gar and the Constructicons are still alive.

You left a piece out!
---
This article is a stub and is missing information. You can help Teletraan I: The Transformers Wiki by expanding it.