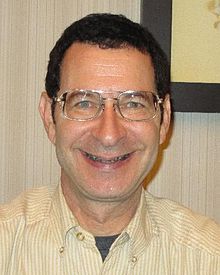 Edward Harry "Eddie" Deezen (born March 6, 1957) is an American actor and comedian, best known for his bit parts as the typical nerd characters in 1970s and 1980s films. Some of his most notable roles include Eugene Felsnic in Grease and it's sequel, Eddie Malvin in Punky Brewster, Wesley in Midnight Madness, Herbie Kazlminsky from Steven Spielberg's 1941 and Malvin in Wargames.
As a voice actor, he is easily recognizable for his distinctively high-pitched and nasally voice. He is perhaps best known for the role of Susan "Mandark" Astronomanov on Dexter's Laboratory as well as Snipes the Magpie in Rock-A-Doodle, Ned in Kim Possible, Mouth in Darkwing Duck, The Guy Boarded in the Wall in The Weird Al Show, and Lenny the Know-It-All in The Polar Express.
Voice roles
Community content is available under
CC-BY-SA
unless otherwise noted.