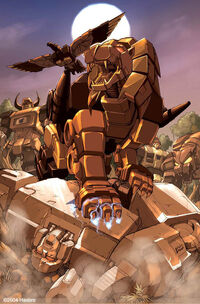 The Dreamwave Summer Special, released in 2004 by Dreamwave Productions, was a special one-shot issue containing four unrelated stories from different corners of the Transformers mythos. Each story had a single page of information listing the crucial characters, and a recap of the plot of each series thus-far to make each story more accessible to newer readers.
Readers also had the opportunity to fill out a card to vote whether Beast Wars or Robots in Disguise would get a miniseries the following year. Beast Wars won by a large margin but the miniseries was never released due to Dreamwave's closing. A Winter Special follow-up was planned, featuring a story about Optimus Prime and Ultra Magnus, as well as several character profiles, but like many Dreamwave projects, this was also never released.
The stories included were:
Items of note
A press release regarding the Summer Special claimed that the stories within it would never be reprinted anywhere else. With Dreamwave's bankruptcy, this has thus far proved to be accurate.
The "Wavelengths" page featured a note from the desk of Don Figueroa, who penciled the Beast Wars segment and the cover.
The cover date was May 2004 (released July 8, 2004), with a cover price of U.S. $4.95.
Cover
The Predacons defeat Megatron, art by Don Figueroa
Advertisements
Community content is available under
CC-BY-SA
unless otherwise noted.