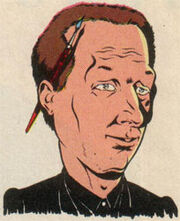 Stephen Baskerville was an Artist for Marvel Comics, often paired as an inker with penciler Andrew Wildman. His work is notable for a focus on the capturing the reflection of light, a useful artistic interest to have when one's job is drawing moving metal boxes.
He started with Marvel UK in 1987, doing pencils and inks on titles like Transformers, Thundercats, and Ghostbusters amoung other licensed work until 1996.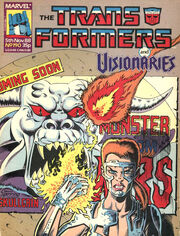 When fellow Brit Simon Furman took over the writing for Transformers from 90-91, Baskerville made the transition with other Marvel UK artists who worked with Furman, such as Geoff Senior and frequent collaborator Andrew Wildman. The Early 90's found him inking on Marvel titles like GI Joe and Web of Spider-Man, as well as Epic Comics' Sleeze Brothers and DC's adaptation of Hitchhiker's Guide to the Galaxy. By 1994, He was working on Spider-Man 2099 and Malibu Ultraverse's Night Man. By the late nineties he was again working for Marvel UK on the title Thomas and Friends, with the title eventually going to Panini. In 2000AD he was inking for Egmont's 2000AD.
Panini would bring Baskerville full circle in 2002 when he collaborated with Wildman on the final issue of Transformers Armada.
Currently, Baskerville does concept art for video grame development working on such licenses as Barbie and SpongeBob Squarepants, and lighter fare like Reservoir Dogs.
External Links

You left a piece out!
---
This article is a stub and is missing information. You can help Teletraan I: The Transformers Wiki by expanding it.
Community content is available under
CC-BY-SA
unless otherwise noted.