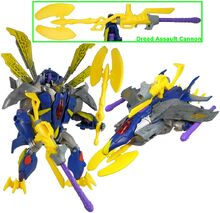 An ancient weapon that's been passed down from Seeker to Seeker, the Dread Assault Cannon is wielded by Decepticon Dreadwing. A massive chainsaw-axe/cannon combination, the fluorescence of the Dread Assault Cannon is due to it being completely radioactive, meaning even heavily-armored combatants will feel their internal circuits sizzle and melt should they be in close proximity to the weapon. Anyone left standing will end up being torn to pieces by the cannon's assortment of chainsaw blades, which deviously throw the armor fragments back to the victims as damaging shrapnel.
Toys
Beast Hunters
Dreadwing (Deluxe, 2013)

Series / Number: 2 / 011
Accessories: Cannon, two missiles, & axe (combine to form Dread Assault Cannon)
Part of the third wave of Prime: Beast Hunters Deluxe Class toys, Dreadwing comes with a spring-loaded missile launcher that can fire either of the two included missiles, as well as a chainsaw axe that can be combined with the launcher to form the "Dread Assault Cannon". Both the cannon and axe mount/are held via 5mm post. In vehicle mode, the missiles can attach to clips on his wings, the launcher mounts onto the fuselage, and the axe is shoved through a 5mm port located on the vehicle's underside.