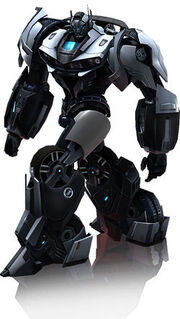 "When it comes to Doubletake... seeing is believing."

Doubletake is an ex-Decepticon-turned Autobot featured in the game Transformers: Universe.
Biography
A Cybertronian police enforcer and former Decepticon, Doubletake is rarely seen or heard by his targets until they're on the verge of shutdown… And by then, he is already on his way to finding his next target. Equipped to handle almost all combat situations, this reconnaissance expert can keep himself going while leaving lingering damage on his enemies.
History
Doubletake was among the Autobots who were on board the Arclight when it was shot down over Central City. He survived the crash and proceeded to take part in a series of battles against the Decepticons who had come aboard the Leviathan. 
Notes
His in-game Weapons are the Assail Laser Rifle, Solo SMGs, and Badlands Saws. His alt-mode comes equipped with a rocket launcher.
His in-game abilities are:

Plasma Taser — Nearby enemies get infused with periodic plasma damage, and any of them who currently have system interference get a plasma shock to the shields.
Bulletproof — provides Doubletake with a force field which reduces incoming damage.
Cyber Warfare — nearby enemies get system interference, while Doubletake and his nearby allies get system boots.

His active subsystem is "Silent Counter", which leaves lingering plasma damage on nearby enemies when he receives a critical hit.
Doubletake is one of the six Founders Pack exclusive characters for Transformers Universe.