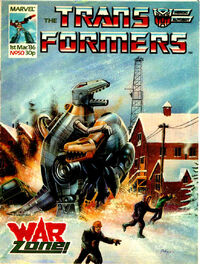 The Autobots attempt to round up those crazy Dinobots but the Decepticons interfere....
Synopsis
After finding out that the Dinobots have probably lost control due to their primary cybo-dendrons having burnt out The Icarus Theory, Optimus Prime assigns the Autobots into teams to capture Snarl, Slag, Sludge and Grimlock before they can harm any humans.
The B-Team (consisting of Mirage, Brawn and Trailbreaker) are assigned to Black Rock (not Blackrock) Desert in Nevada to capture Snarl, which they do (thanks to the help of a prototype molecular disintegration bomb being developed at a secret army base that Snarl destroys). Unfortunately, Laserbeak has been watching, giving the Decepticons knowledge of the Autobots' mission and they make plans to disrupt it as much as possible.
In the waterways of Littlewood, California, Sludge is contentedly being filmed by Joy Meadows while the A-Team (cue music — Windcharger, Gears and Cliffjumper) look for him. Unfortunately, a Decepticon group consisting of Soundwave, Skywarp and Scavenger manage to find and knock out Sludge first. Stumbling upon the unconscious Sludge, the A-Team gets taken out by the Decepticons, pleasing Soundwave greatly.
The Decepticon plan suffers a setback when they are too late to capture Slag in Idaho. A fried Laserbeak tells them of how Jetfire, Jazz and Ironhide (of D-Team) managed to capture Slag (mainly by blocking Slag's flame-thrower with Laserbeak in an attempt to make Idaho Fried Decepticon. However, Soundwave is unconcerned by this setback.
We soon find out the reason for Soundwave's lack of concern — the Decepticons have found Grimlock before the Autobots and have set Sludge on him. The town of Doonstown is reduced to a war zone as the two Dinobots fight, plunging into a frozen lake as they do. Bluestreak, Huffer and Sideswipe are early casualties as they try to stop the fight. Summoned by an urgent S.O.S., Prime, Bumblebee, Ratchet and Prowl speed to the scene. The first three arrive and Prime attempts to keep the Dinobots in the lake while Ratchet goes to tend the members of C-Team and Bumblebee finds a hidden energy source.
The energy source turns out to be a cloaked Autobot shuttle with Windcharger, Gears, Cliffjumper (as prisoners) and a Sonic Lance on board. Bumblebee rescues the captured Autobots as Prowl transfers his shuttle's electrical systems to the hull and bails out. The shock knocks out Grimlock, but Sludge, still controlled by the Sonic Lance, lunges for Prime. Bumblebee realizes that the Sonic Lance is probably booby-trapped so he blows the shuttle up, causing Sludge to pass out before he can attack Prime.
Nearby, the Decepticons (having found an oil rig to steal energy from) hear the explosion and an elated Soundwave shouts that the Decepticons have emerged triumphant. Prime hears Soundwave but realizes he can do nothing until his injured Autobots are repaired.
Credits
Writer: Simon Furman
Art/Pencils: Will Simpson (#47 & #49), Barry Kitson (#48 & #50), Tim Perkins (#50)
Inks: Marc Griffiths (#48)
Colours: Stuart Place (all issues) with Jeff Anderson (#48)
Lettering: Annie Halfacree (#47, #48 & #50), Mike Scott (#49)
Editor: Ian Rimmer
Originally published: February 8, 1986 – March 1, 1986
Featured characters
(Numbers indicate order of appearance.)
Errors
On the last page of part 3, Sideswipe is shown to be badly injured before the transmission cuts off. In part 4, he states that he went back to the ship to call for reinforcements, then states that "I'm not totally sure my distress call got through as at that moment one of them decided to chew through my shuttle's fuel tank." Therefore, he should not have been injured when talking to Prime.
Bluestreak's and Sideswipe's injuries change between panels.
Windcharger, Cliffjumper and Gears are a bit naive (well, stupid) when they get captured. They see blaster fire and find an unconscious Sludge but ponder on what's happened instead of thinking hang on, we're next here.
Items of note
References
Although Jetfire has been featured since UK issue #35, this is the first time in the UK comic that he is seen as an Autobot with sentience. He also loses his Decepticon symbol in this story.
UK printing
Issue #47 contains the back-up strips: Iron Man — "From the Ashes" Part 1, Robo-Capers and Matt and the Cat.
Issue #48 contains the back-up strips: Iron Man — "From the Ashes" Part 2, Robo-Capers and Matt and the Cat.
Issue #49 contains the back-up strips: Iron Man — "From the Ashes" Part 3, Robo-Capers and Matt and the Cat.
Issue #50 contains the back-up strips: Iron Man — "From the Ashes" Part 4, Robo-Capers and Matt and the Cat.
Covers (5)
Advertisements
Reprints
Community content is available under
CC-BY-SA
unless otherwise noted.