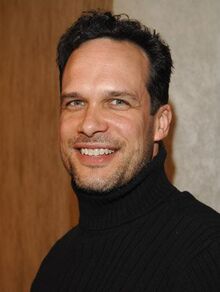 Karl Diecrich Bader (born December 24, 1964) is an American screen & voice actor, who is recognized in live action as Oswald Lee Harvey in The Drew Carey Show, Lawrence in Office Space, Charlie Davies in Outsourced, Jethro & Jethrine Bodine in The Beverly Hillbilles, Greg Otto in American Housewife, Bill Ericsson in Veep and Martial Artist Rex of Rex Kwon Do in Napoleon Dynamite.
In the realm of voice work, he can be heard in the roles of Batman in Batman: The Brave & the Bold and JLA Adventures: Trapped in Time, Guy Gardner in Green Lantern: The Animated Series, Hoss Delgado in The Grim Adventures of Billy & Mandy, Kraven the Hunter & Moon Knight in Ultimate Spider-Man, Tank Evans in Surf's Up, The Fiskerton Phantom in The Secret Saturdays, Warp Darkmatter in Buzz Lightyear of Star Command, Booster Gold in Justice League Action, and the titular Android of the Batman Beyond spin-off, The Zeta Project.
Voice Roles
Community content is available under
CC-BY-SA
unless otherwise noted.