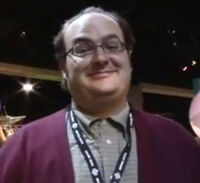 Derrick J. Wyatt (10 August, 1972- ) is an American artist and character designer. He has done character designs for series such as Foster's Home for Imaginary Friends, but is best known as a character designer on the series Teen Titans. He is currently the art director, lead character designer, and a color stylist on Transformers Animated.
While attending the Joe Kubert school of art in New Jersey, one of his teachers was Jose Delbo.
Freaky, man.
He longs to have Animated feature appearances/homages for Lord Chumley and Slizardo.
Convention guest
External links