Deftwing is an Autobot from the Generation One and Generation 2 portions of the Generation One continuity family.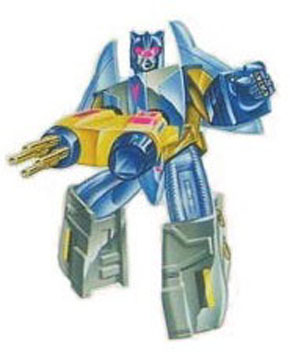 Astute and resourceful, Deftwing can come up with brilliant defensive strategies while soaring through the skies during battle. While mainly a defensive tactician, he is no slouch on the offensive, either. He believes that every mission must destroy its target, and it's his job to see that outcome into fruition, even if he must do it himself. His vertical takeoff and landing ability allows him to quickly launch into the air, and his visible tracer rounds, coupled with his super-accuracy, ensure he does not waste a shot.
Alternate European name: Blue Arrow
Fiction
Marvel UK Comics continuity
Official Transformers Generation 2 Annual

I want to tell you about the Transformers!
---
This character article is a stub and is missing information on their fictional appearances. You can help Teletraan I: The Transformers Wiki by expanding it.
Toys
Generation One
Deftwing (Lightformer, 1993)
Available only in European markets, Deftwing transforms into a Hawker Siddeley AV-8 Harrier fighter jet. In this mode, his large Lightformer weapon stand is mounted on the aircraft's back, functioning as a booster unit as well as a weapons system, similar to Generation One Jetfire. This weapon uses a combination of the light-piping and gear-wheel gimmicks so that when you look through the "viewscope" and turn the wheel beneath, as the gattling cannon rotates, the view from the scope makes it look like twin beams of laser-fire are striking your selected target. The booster weapons unit has a fold-down stand to become a gun emplacement for Deftwing to man in robot mode.
Generation 2
Deftwing (Lightformer, 1994)
This release is identical to his 1993 release, but in Generation 2 packaging, and was on a blister card instead of in a box.
External links
Community content is available under
CC-BY-SA
unless otherwise noted.