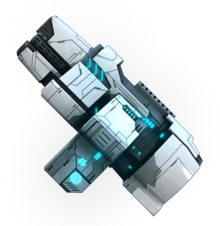 The Defibrillation Pistols are Triage's way of keeping Decepticons out of his business while he's trying to work on a patient. Their Off-Balance S-tech magnetizes whoever he shoots so that they match polarities with him, causing them to be pushed away from him. At which point they probably just shoot at him.
Notes
Range: 3/8
Shield Damage: 3/8
Spark Damage: 3/8
Use Off-Balance to knock an enemy away that is bearing down on Triage. It is also useful for knocking enemies off of ledges, breaking their line-of-sight.
Community content is available under
CC-BY-SA
unless otherwise noted.