The name or term Defensor refers to more than one character or idea. For a list of other meanings, see Defensor (disambiguation).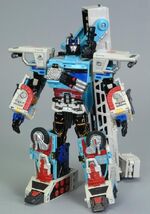 Defensor is the bearer of the Matrix of Leadership and, thus, is the leader of the whosoever Autobot(s) that survived Megazarak's massacre. (As a matter of fact, Ultra Trion is the other known living Autobot.) He is the "Last Autobot" and is presumably based in Base Sigma.
It is unknown whether he is related to the other Defensor.
Toys
Universe
Planned as an exclusive toy for OTFCC 2004, Defensor would be a retool of RID Optimus Prime with a new head for the Battle mode. His deco would resemble that of the original Defensor. His (smaller) robot mode is known as "Hot Spot".
Since 3H Enterprises were unable to get their exclusive toys done in time for the convention, his release was pushed back a year. Nevertheless, 3H Enterprises lost the convention license to Fun Publications. That meant the delayed exclusive was no longer merely delayed, and was instead canceled.
Midnight Shield Defensor (Super, 2004)
Midnight Shield Defensor (also known as Chaos Armor Defensor) is a black and gold redeco of fellow convention exclusive Defensor. His release was delayed and canceled like Defensor's.
External links