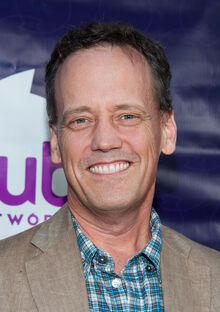 Dee Bradley Baker (born August 31, 1962) is an American voice actor, known for roles such as Numbah 4 in Codename: Kids Next Door, Ra's al Ghul in the Batman: Arkham series, Klaus on American Dad, all the clone troopers in Star Wars: The Clone Wars, a vast array of Omnitrix aliens in the Ben 10 franchise, and Cinnamon Bun in Adventure Time. He has also worked in game shows, as the voice of Olmec, the large talking stone head from Nickelodeon's Legends of the Hidden Temple, and was also the announcer/sidekick on the Family Channel and PAX TV runs of Shop 'Til You Drop (both series were produced by Stone-Stanley Productions).
Much like Frank Welker, he can "voice" non-talking animal characters really well, such as all the animals in Avatar: The Last Airbender and The Legend of Korra, Waddles the pig from Gravity Falls, Perry the Platypus from Phineas and Ferb, and Lion from Steven Universe.
Voice Roles
Community content is available under
CC-BY-SA
unless otherwise noted.