Dauros (ダウロス Daurosu) seems to be the dumb one. He looks up to Gilmer as a sort of sub-allegiance to keep Blood from throwing his weight around.
Italian Tv dub name: Cornu
Fiction
Super-God Masterforce cartoon
Voice actor: Daisuke Gori (Japanese)

I want to tell you about the Transformers!
---
This character article is a stub and is missing information on their fictional appearances. You can help Teletraan I: The Transformers Wiki by expanding it.
Super-God Masterforce comic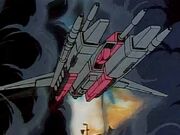 Toy
Super-God Masterforce
Dowlos [sic] (Pretender, 1988)

Japanese ID number: D-202
Accessories: Sword, 2 x guns (left & right), belt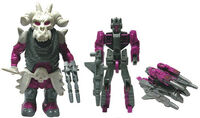 "Dowlos"'s inner robot turns into a Cybertronic tank thing, with two built-in cannons in addition to Dauros's own guns that can be attached to the sides. The tank has three wheels on the underside to allow him to roll. Amusingly, the largest wheel ends up on his crotch in robot mode. The built-in cannons can be swung out of his arms easily in this mode, while his side guns can either be attached to his knees or held in his fists. The guns themselves can also be combined into a single double barrel gun, though the large size means it suits his Pretender shell better.
Dauros's Pretender shell is a humanoid monster with a demonic ram's skull. Unusually, the belt actually works like a belt, looping around the shell and fastening together. While this may be more realistic or may look better, it also means one needs to unfasten the belt every time one opens the shell. The shell is armed with a sword and the double gun.
Dauros is identical to Skullgrin.
Notes
"Dauros" is a pun on tauros, Greek for "bull".
Community content is available under
CC-BY-SA
unless otherwise noted.