DJ is a Maximal Jointron from the Beast Wars II portion of the Generation One continuity family.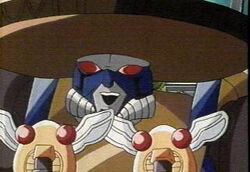 DJ is the eldest of the three Jointron Brothers but also the least mature. He has a habit of drinking too much oil and then "wetting himself". Like his brothers, DJ often injects bad Spanish sentences into his talk, often only confusing whoever he's speaking with. He enjoys music much more than any of the other Maximals and will play it whenever possible. He's much more interested in music than war. Being a Jointron, he is perpetually in a partying mood and rarely gets serious about anything. Because of the frequently obnoxious personalities of him and his brothers, the Jointrons have been situated in a base far, far away from the other Maximals.
He can join with the other Jointrons (get it?) to form Tripledacus. His weapons of choice are the sound-emitting Seven-Year Swords (that's how long it took to tune them) he stores in his wings. They are also his frequent instruments of choice.
Note:
The IDW Beast Wars Sourcebook removed the more blatant humorously racist aspects of DJ's character for his entry, but did keep his love of music.
Fiction
Beast Wars II cartoon
Voice actor: Ryō Naitō (Japanese)
Beast Wars II comic
Beast Wars Neo cartoon
Toys
Beast Wars II
Japanese ID number: C-23
This figure is a redeco of Cicadacon, transforming into an organic cicada. He has a pair of swords that store under his main wings. He also forms the upper torso and head to Tripledacus.
Tripledacus (Multi-pack, 1998)
Japanese ID number: '
All three Jointrons were avaiable in a gift-set as well as in individual packagaing. The giftset versions are identical to the individuals.
Notes
DJ's personal hygiene, dubious as it is in a Transformer, is based on genuine cicada behavior. Well, not the getting drunk part.
External Links

I cannot remain in this unacceptable operational status!
---
This character article is a stub and is missing information. You can help Teletraan I: The Transformers Wiki by expanding it.