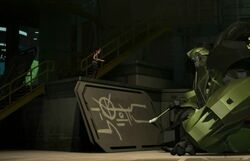 While some Cybertronians speak English, like many humans, they can also speak, read and write in their native language.
History
On many computers, consoles, and screens on Cybertron, Cybertronian scripts could be seen. When a directive was shown to a Transformer, symbols flashed on their heads up display.
When Bulkhead's mind started to be assimilated by information ejected from a data cylinder, his mind went to science and formulas. He began to eccentrically paint Cybertronian symbols on chalkboards and walls, using a broom like a paintbrush. 
Raf knows how to decode Cybertronian code since Ratchet taught him.
Community content is available under
CC-BY-SA
unless otherwise noted.