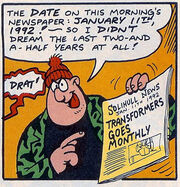 Combat Colin was a comic strip drawn by Lew Stringer and originally published in the Marvel UK Action Force comic (staring in issue #5) but transferring to the Marvel UK Transformers comic when the former title merged into it from issue #153. The strip replaced the Robo-Capers strip, although the two strips would have a special crossover in issue #200.
In Transformers the strip was initially a half-page in colour, with the occasional full page special, but transformed into a full page black and white strip from issue #224, with the occasional colour strip. From issue #300 the strip was in full colour. For the final two issues of the comic the strip was given two pages.
Although Combat Colin began life as an Action Force inspired strip he proved highly popular in Transformers and remained in the comic even when Action Force (later G.I. Joe the Action Force) left the comic on three occasions (between issue #183 & issue #190, issue #213 & issue #219 and permanently from issue #306).
Combat Colin told of the adventures of Colin Doobrey-Smiff, a bumbling would-be war hero living in British suburbia. Together with his sidekick Semi-Automatic Steve he had many adventures. The strip sometimes breaks the fourth wall, acknowledging the readers and the wider comic.
Combat Colin/Transformers crossovers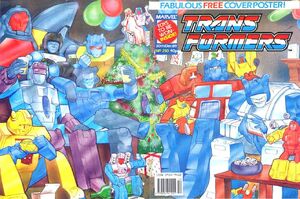 Colin and Steve were looking forward to the party to celebrate both Christmas and the 250th issue of Transformers but when they arrived, a sign on the door told them the party was for Transformers only and humans weren't invited - "In other words: Clear off, you two!" They instead held their own party in the Combat Shed and invited many heroes from other Marvel comics. Christmas with Combat Colin
Later, whilst Colin was celebrating both the 300th issue of Transformers and being in full colour permanently, almost all his villains launched a joint attack. After defeating them with a single blast from a boxing-glove gun, Colin was so elated, he suggested he might boot out the Transformers and take over the whole comic. Suddenly, Blaster appeared and picked up Colin to ask him, "Boot out WHO and take over WHAT?" Colin decided it would be best to stick to his own page after all. Combat Colin 300
Some time later Colin and Steve were transported back in time to 1967. The Return of Combat Colin Using a candy floss spinner machine as a time machine, they travelled forwards, only to find they had arrived in the year 2000 at the Transforce 2000 convention. There they discovered the plans of a clone of their old foe Doctor Nasty to use his mindless robot to destroy the convention. But Doctor Nasty's robot was too mindless to do anything, so he resorted to a heat ray which melded a fan to his Optimus Prime toy forever. Colin and Steve had no weapons with them and realised they needed to use "modern, hi-tech intelligent methods" to defeat villains...so they clobbered Doctor Nasty with a computer monitor. They set out to see if the year 2000 had the flying taxis, teleport systems, jet trains and rocket boots that science fiction had promised. Combat Colin in the 21st Century
Notes
Originally, Lew Stringer proposed to call the character and strip Dimbo, but Action Force editor (and oftentime Transformers letterer) Richard Starkings suggested "Combat Colin", a name that would not date so quickly.
As well as occasionally appearing in the world of the Transformers, Colin had some adventures involving other characters from the mainstream Marvel Universe. Spider-Man makes cameos in a number of strips, whilst Doctor Doom appeared in one two-part story. How this affects where the Transformers fit into the overall scheme of the Marvel Universe is unclear.
External link

You left a piece out!
---
This article is a stub and is missing information. You can help Teletraan I: The Transformers Wiki by expanding it.
Community content is available under
CC-BY-SA
unless otherwise noted.