Colonel Sharp is a human in the Movie continuity family.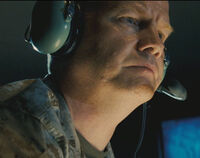 Colonel Sharp, United States Marine Corps, is the commanding officer of SOCCENT Forward Operations Base in Qatar. He's very no-nonsense and ready to declare to hostiles their intent to use deadly force if their hand is played.
He is easily confused by helicopters.
Fiction
Transformers (2007 film)
Actor: Glenn Morshower
It was a very bad day for Colonel Sharp when a mysterious helicopter entered his command's airspace and refused to identify itself. Things got even worse when it turned out the helicopter was 4500X, which had been shot down over Afghanistan three months earlier. By the time the base's radar was jammed, Sharp was at the limits of his patience, and he ordered the crew of the helicopter to step out or be shot. And everything pretty much went to hell when said helicopter transformed into a Decepticon named Blackout (Movie) and rampaged across the air base, tossing tanks and jets into the air.
When Blackout began trying to download top-secret military data, Sharp physically cut the lines to the server with a fire ax, thus preventing the invader from getting all the data it was after.
Sharp was presumably killed along with the rest of the personnel stationed at the base (with the notable exception of William Lennox's team) by the aforementioned robot shortly afterwards. Transformers (film)
Notes
According to writers Roberto Orci and Alex Kurtzman, Colonel Sharp is a small homage to the Colonel Sharp character that appeared in the 1983 G.I. Joe mini-series.[1]
Interestingly, Colonel (Willie) Sharp is the commander of the shuttle mission in the film Armageddon, ...another Michael Bay film.
Footnotes