The name or term Chromia refers to more than one character or idea. For a list of other meanings, see Chromia (disambiguation).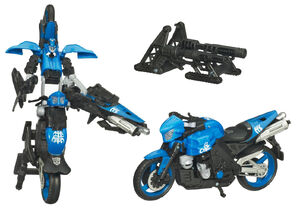 Chromia is an Autobot from the live-action movie continuity family.
Chromia is as tough as nails, and always spoiling for a fight. She's been friends with Ironhide for centuries, and their reunion on Earth was one of the high points of the war for both of them. Now they fight side by side, hunting and destroying Decepticons. Neither of them has ever been happier. The two robots make great partners, and she, along her sisters, are an invaluable part of the team.
Fiction
IDW Publishing
Arcee, Chromia and Flareup were among the Autobots to come to Earth in response to Optimus Prime's signal inviting all of his kind to come there. She joined the Earth based Autobots later. Transformers: Alliance #4
Revenge of the Fallen film
Note:
Though Chromia's toy gets its own name and personality, all three motorcycles are simply components of Arcee in the film. Check out Arcee for more information.
Toys
Revenge of the Fallen
Chromia transforms into a Suzuki B-King. Her humanoid mode is supported by a single tire, and can stand with the aid of a detachable accessory. The accessory can also be attached in her alt mode. The headlights of the toy are notably inaccurate of the real bike and movie render.
Trivia
External links
Community content is available under
CC-BY-SA
unless otherwise noted.