The name or term Charlene refers to more than one character or idea. For a list of other meanings, see Charlene (disambiguation).
Charlene is a human from the Generation One continuity family.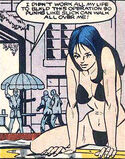 Charlene is one of the scantily-clad bikini babes that gangster Jake Lomax keeps around his estate. She's moist.
This is one of the reasons why being a mob boss is awesome.