This article is about the planet. For the Velocitron location, see Ceti Alpha V.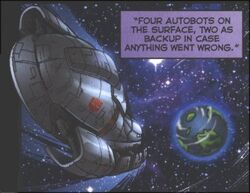 Ceti Alpha Seven is a planet of murky jungles and swamps.
Fiction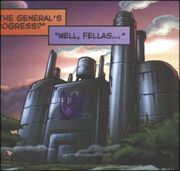 Timelines
Ceti Alpha Seven was the site of a Decepticon facility under the command of Deathsaurus. Its function was to unlock the then-thought-lost cloning ability of the Insecticons. Using Dirge and Buzzclaw as bases, Deathsaurus was indeed able to produce a horde of Virulent Clones, but he ultimately destroyed the facility in an attempt to kill a captured team of Autobots. Descent Into Evil
Notes
Ceti Alpha Seven is probably a reference to Ceti Alpha V, a planet from Star Trek.
Community content is available under
CC-BY-SA
unless otherwise noted.