When the Transtech toyline concept was dropped, Hasbro needed additional time to develop a new franchise to follow the Beast Era. In 2000, the company therefore opted to bring over Takara's Car Robots line, rebranding the toyline as Robots in Disguise.
The Car Robots line consisted of a group of new-mold toys, along with several redecorated toys from previous lines. The line included the first realistically-styled Earth vehicle Transformers in half a decade.
As sales rose and more toys were needed, Hasbro added in still more redecorated toys to pad the line out toward its end. By the time all was said and done, RiD included molds from Generation One, Generation 2, Beast Wars, Machine Wars, and Beast Machines -- in other words, every American toyline that had been produced to that point. Several cancelled/delayed/unproduced molds from previous lines were brought out as well, such as Air Attack Optimus Primal.
The line is therefore marked by an extremely wide variation in quality, complexity, realism and posability. At one end of the spectrum were fairly simple designs from previous lines, such as the Commandos and Spy Changers. On the flip side, most of Takara's original mold designs were extremely complex, often to the point of frustrating fans with their origami-like shellformer transformations that required stuffing robotic bits just so to make them all fit together in vehicle form -- though some fans also found this same complexity to be an enjoyable challenge.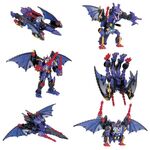 Several elements introduced by Robots in Disguise would recur in the subsequent Unicron Trilogy and various other storylines, such as Optimus Prime combining with other major toys, Prime and Ultra Magnus as brothers, and Galvatron being a redeco of Megatron.
RiD was the first (and thus far, the only) time an existing Japanese line was brought over wholesale to the US. Though the toys were new to the line's primary audience of children, many fans had already paid considerably higher prices to import the toys from Japan. Despite this, the line was met with a generally positive reception by fans (particularly those who'd found import prices to be more than they were willing to dish out), and seemed to sell well enough to kids as well, if the number of later redeco additions to the line is any indication.
Some minor changes were made to the US releases of the toys, most notably the application of tampographed faction symbols.
Car Robots
2000
Cybertrons
Spychangers
The Spychanger group began as redecorated G2 GoBots molds. Eventually, several molds that were developed for G2 but never released were added to the ranks, as well as several entirely new molds representing characters from the line who had larger toys.
Flipchangers
The Flipchangers were another canceled G2 item, though these had previously surfaced in Machine Wars.
Deluxe
Includes the Autobot Brothers and the Build Team, all molds original to the line. The Autobot Brothers share highly realistic vehicle forms and complicated, shellforming transformation schemes. The Build Team share a very blocky aesthetic which conceals a complex design, allowing them to combine in multiple ways.
Mega
Known on the cartoon as Team Bullet Train, these three Takara-original molds can combine into Rail Racer.
Super
Two massive new Takara molds, which can combine to form Omega Prime.
City
Gift sets
Destrongers
Basic
Mega
Ultra
Combatron
Basic
Deluxe
Ultra
Super
Gift set
2003
Cybertrons
Spychangers (Japan)
Robots in Disguise
2001
Autobot
Basic
Deluxe
Mega
Super
Decepticon
Basic
Deluxe
Ultra
Predacon
Deluxe
Mega
Versus
Deluxe
2002
Autobot
Basic
Spychangers (KB Toys and Target exclusives)
Deluxe
Mega
Decepticon
Basic
Deluxe
Megatron Megabolt (KB Toys exclusive)
Super
Predacon
Ultra
Versus
Basic
Mega
2003
Autobots
Tiny Tins
Spychangers (KB Toys exclusives)
Ultra
Supreme
Decepticons
Deluxe (KB Toys exclusives)
Ultra
Trending pages
All items (1)
Community content is available under
CC-BY-SA
unless otherwise noted.