Bulldog is a Autobot, that appear in Transformers: The Last Knight. He has Robot Dementia and thinks it's still World War I.
Personality & Character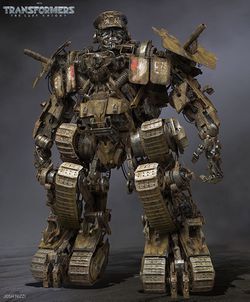 History
The Last Knight film
Bulldog was active in World War I, where his exploits were documented and covered up by the Order of the Witwiccans. In the present day, Bulldog—his physical and mental facilities now severely degreaded—was one of the several elderly Autobots that had come under the care of Sir Edmund Burton in the United Kingdom.
When Bumblebee and Cade Yeager arrived on the premises, Bulldog mistook the two for enemies and fired on them. His behavior earned him a scolding from Burton, and Bulldog transformed while bemoaning his poor physical condition. The Last Knight
Relationships
Gallery
See Also
Notes & Trivia
"Bulldog" was not referred to by name on-screen and was listed as "WWI Tank" in the credits. We call him as such because "Bulldog" is emblazoned on his alt-mode.
Bulldog's name, alternate mode, and accent are a reference to the bulldog's long-standing association with Britain.
References
External Links