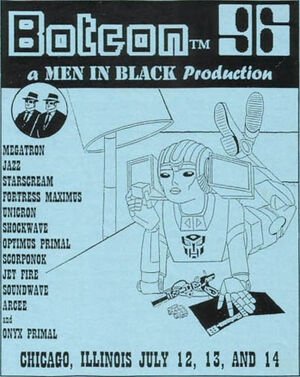 BotCon 1996 was held on July 12-14, 1996 in Rosemont, Illinois. It was the only convention overseen by Men in Black Productions, who inexplicably chose to infuse the convention with a Pulp Fiction theme. There were no guests aside from Hasbro/Kenner representative Anthony Gaud.
The exclusive toy was the Predacon Onyx Primal, whose "bio" continued the unofficial Pulp Fiction association of the event by being a slight rewording of a quote from the film. A "Dealer Exclusive" variant of Onyx was also made available only to dealers; this would be the first and last time such a thing was attempted at BotCon.
To celebrate the tenth anniversary of The Transformers: The Movie, MiB held a "birthday party" featuring a screening of the film on a wide-screen TV and a birthday cake. A very generic birthday cake. The sealed VHS copy of The Movie—opened just for the occasion—did not actually work, although MiB were somehow able to acquire another, functional copy from an attendee after several minutes. Unfortunately, that did not alleviate the fact they neglected to produce forks for the cake. Also, water was served as a drink out of a McDonald's keg (not even that cheap orange drink they normally use).
The dealer room opened to the dealers for setup hours late, and was opened to "early bird" pass holders almost immediately afterwards. Dennis Barger of Men in Black assured dealers that their wares would be safe in the convention hall overnight, as he would be sleeping in there to ensure nobody would intrude.
No lanyards were available to dealers or attendees. Identification was done via generic "HI MY NAME IS _______" stickers, which the staff ran out of by day two, resulting in people just waltzing in unchecked by the end of the show.
Needless to say, Men in Black was not brought back to participate in BotCon 1997.
Displays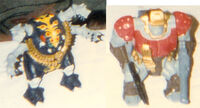 The art room did feature many unreleased Transformers toys that have rarely or never been seen since (good thing they were photographed for the BotCon Legends fanzine!), including one of the Generation One Unicron toys, several unproduced Micromaster and Action Master vehicles, and the "Double Pretenders", a gorilla-shell and spider-shell duo, reputed to be Pretender forms for Optimus Prime and Megatron. Trukk is munky!
Kenner "panel"
Events
Friday
Friday was mainly for pre-registration check-in. However, those with a "dealer day pass" (an extra fee tagged on to the pre-registration fee) could enter the dealer room from 7pm to 9pm. As dealers had been let in late to begin with, this caused much chaos.
Other major events included...
A showing of The Transformers: The Movie at 9:30pm.
Saturday
Once again, a "Dealer Day Pass" was instituted, whereby pre-registrations who paid extra could get into the dealer room at 7am (as opposed to the 9am general opening). Other events included:
Another showing of The Transformers: The Movie.
The dealer room was open until 6pm.
Around 4PM, one of the dealers shouted "Free Insecticons!" and began throwing insecticons randomly into the crowd. This created little ruckus at the time, as the demand for the G1 Insecticons was at an all-time low.
Sunday
No "Dealer Day Pass" was offered for this day. Events included:
A "How to Repair Your Transformers Toys" panel by Bob Bowman and Harry Tietjens.
Another showing of the Beast Wars pilot episodes.
A "1997 International Transformers Convention" panel held by Dennis Barger and The Men-In-Black.
A "Foreign Non-Toy Items" panel held by Tony Preto.
A Transformers Quiz Show, followed by an announcement of contest winners and prizes.
A Toys For Tots charity auction, which included several unreleased G2 Go-Bots, ATB Megatron/Starscream, and Combat Hero Optimus Prime and Megatron.
The dealer closed at 4pm, and the convention shut down entirely at 5pm.

You left a piece out!
---
This article is a stub and is missing information. You can help Teletraan I: The Transformers Wiki by expanding it.
Community content is available under
CC-BY-SA
unless otherwise noted.